Research and Development
The R&D centre was officially opened on September 10th, 2012, by the Minister for Medical services at our facility in Nairobi. The centre was established with a broad objective to pursue research, development and manufacture of new products of proven quality, affordable and economically viable, and as a tool to drive business in the COMESA region and beyond.
We believe that research and innovation, and new approaches to drug formulation and development will place us in a better position of competitive advantage in the pharma market place.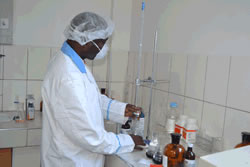 By bringing our R&D capabilities together in one centre, through integrated approach and technology transfer we aim at delivering superior solutions for our growth in various product portfolios.
Our NPD Vision: -To make Beta Healthcare International a centre of competence in pharma formulations design and development in the Sub- Saharan Africa.
Our NPD Mission: - Innovative approaches to business for profitability and enhancement of quality of life of mankind.