Levoz-500 tablets contains Levofloxacin Hemihydrate equivalent to Levofloxacin 500 mg
Levoz is effective against the commonly encountered gram positive organisms e.g. penicillin-resistant S. pneumonia, S. aureus as well as gram negative organisms e.g. H. influenza, P. aeruginosa, Pneumoniae, L. pneumophilla, S. pyogenes and UTI path
ogens like E. coli, Klebsiella, P.
mirabilis, and Enterococcus feacalis.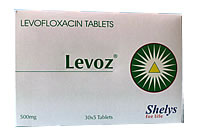 Levoz provides a pillar of support against lethal bacterial infections and is a superior choice in UTI. Levoz is indicated for treatment of acute pyelonephritis, acute cystitis, chronic bacterial prostatis, complicated and uncomplicated UTI.
Levoz has high clinical success, is well tolerated and has the lowest rate of ADR among fluoroquinolones.
Levoz-500 presents as a blister of 5 tablets with such 10 blisters in a box.